Silvan Sievers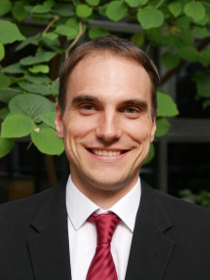 Address
Department of Mathematics and Computer Science
Spiegelgasse 1
CH - 4051 Basel, Switzerland

Room
04.005
Email
Phone
+41 61 207 55 78
About me
I am a post-doctoral researcher within the AI group at the University of Basel, where I previously completed my PhD (Dr. phil.) under the supervision of Malte Helmert in October 2017. Before that, I received my Master's degree from University of Freiburg in April 2012.
My main research interest lies in the area of classical domain-independent planning, where I focus on heuristic search algorithms for solving planning tasks optimally. I am specifically interested in the merge-and-shrink framework and other abstraction heuristics such as pattern databases, and furthermore in using symmetries for pruning and task transformations. I also worked on creating planning portfolios using learning techniques.
Software
I am a regular contributor to Fast Downward. All extensions of Fast Downward described in my publications are available online and are linked below each publication in the list below. Furthermore, I try to keep several code bases, including some of those used for papers, up-to-date based on the most recent Fast Downward release. Please cite the appropriate paper when building on these. If in doubt or if you cannot find the right code base, please contact me.
doko: a C++ framework implementing the game doppelkopf, with an integrated player based on UCT. See my Master's thesis and the KI 2015 paper below for a description of the game and an evaluation of the UCT player.
Tutorials
Awards
Publications
(Show all abstracts) (Hide all abstracts)
2020
Silvan Sievers, Florian Pommerening, Thomas Keller and Malte Helmert.
Cost-Partitioned Merge-and-Shrink Heuristics for Optimal Classical Planning.
In Proceedings of the 29th International Joint Conference on Artificial Intelligence (IJCAI 2020), pp. 4152-4160. 2020.
(Show abstract) (PDF) (technical report; PDF) (slides (short); PDF) (slides (long); PDF) (poster; PDF) (5m talk; MP4) (15m talk; MP4) (code, scripts and data)


Álvaro Torralba, Jendrik Seipp and Silvan Sievers.
Automatic Configuration of Benchmark Sets for Classical Planning.
In Proceedings of the ICAPS 2020 Workshop on Heuristics and Search for Domain-Independent Planning (HSDIP 2020), pp. 58-66. 2020.
Superseded by the ICAPS 2021 paper "Automatic Instance Generation for Classical Planning".
(Show abstract) (PDF) (slides; PDF) (recording)


Gabriele Röger, Malte Helmert, Jendrik Seipp and Silvan Sievers.
An Atom-Centric Perspective on Stubborn Sets.
In Proceedings of the 13th Annual Symposium on Combinatorial Search (SoCS 2020), pp. 57-65. 2020.
(Show abstract) (PDF) (slides; HTML) (recording; MP4) (code, scripts and data)

2016
Martin Wehrle, Silvan Sievers and Malte Helmert.
Graph-Based Factorization of Classical Planning Problems.
In Proceedings of the 25th International Joint Conference on Artificial Intelligence (IJCAI 2016), pp. 3286-3292. 2016.
(Show abstract) (PDF) (slides; PDF) (poster; PDF) (code, scripts and data)


Jendrik Seipp, Florian Pommerening, Silvan Sievers, Martin Wehrle, Chris Fawcett and Yusra Alkhazraji.
Fast Downward Aidos (planner abstract).
In First Unsolvability International Planning Competition (UIPC 2016). 2016.
(PDF) (Code)


Silvan Sievers, Martin Wehrle and Malte Helmert.
An Analysis of Merge Strategies for Merge-and-Shrink Heuristics.
In Proceedings of the 26th International Conference on Automated Planning and Scheduling (ICAPS 2016), pp. 294-298. 2016.
(Show abstract) (PDF) (technical report; PDF) (slides; PDF) (poster; PDF) (code, scripts and data)

2013
Jendrik Seipp, Silvan Sievers and Frank Hutter.
Automatic Configuration of Sequential Planning Portfolios.
Technical Report CS-2013-005, Department of Mathematics and Computer Science, University of Basel, 2013.
Superseded by the AAAI 2015 paper by the same name.
(Show abstract) (PDF)