Silvan Sievers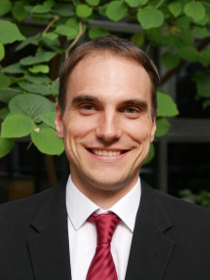 Address
Department of Mathematics and Computer Science
Spiegelgasse 1
CH - 4051 Basel, Switzerland

Room
04.005
Email
Phone
+41 61 207 55 78
About me
I received my Master's degree from University of Freiburg in April 2012. In October 2017, I completed my PhD (Dr. phil.) under the supervision of Malte Helmert at the University of Basel. My main research interest lies in the area of classical domain-independent planning, where I focus on heuristic search algorithms for solving planning tasks optimally. I am specifically interested in the merge-and-shrink framework and other abstraction heuristics, and furthermore in using symmetries for pruning and task transformations. I also worked on creating planning portfolios using learning techniques.
Software
I am a regular contributor to Fast Downward. If you are looking for specific implementations of algorithms described in my papers which are not part of public Fast Downward, please contact me.
doko: a C++ framework implementing the game doppelkopf, with an integrated player based on UCT. See my Master's thesis and the KI 2015 paper below for a description of the game and an evaluation of the UCT player.
Tutorials
Awards
Publications
(Show all abstracts) (Hide all abstracts)
2013
Jendrik Seipp, Silvan Sievers and Frank Hutter.
Automatic Configuration of Sequential Planning Portfolios.
Technical Report CS-2013-005, Department of Mathematics and Computer Science, University of Basel, 2013.
Superseded by the AAAI 2015 paper by the same name.
(Show abstract) (PDF)