Clemens Büchner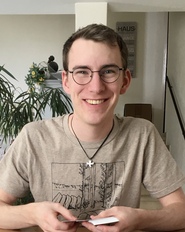 Address
Department of Mathematics and Computer Science
Spiegelgasse 5
CH - 4051 Basel, Switzerland

Room
04.001
Email
Phone
+41 61 207 05 40
As a child, I was fascinated by puzzles and combinatorial problems. Since 2015, my studies of computer science at the University of Basel have allowed me to persue this interest academically. During this time, my interests evolved around planning and optimization, aiming to solve such problems automatically. I completed my Bachelor's and Master's degree in 2018 and 2020, respectively. Since then, I have been working on my PhD in the AI group here in Basel.
My current research focus lies in using ordered landmarks to guide heuristic search for solving classical planning problems.
Awards
Best Student Paper Runner-Up Award for the paper Exploiting Cyclic Dependencies in Landmark Heuristics (PDF) with Thomas Keller and Malte Helmert at the 31st International Conference on Automated Planning and Scheduling (ICAPS 2021).
Publications
(Show all abstracts) (Hide all abstracts)